Last Updated on 13 februari 2022 by Syds
Dit project heeft tot doel om de opbrengst, en nog wat aanvullende gegevens, van mijn zonnepanelen uit te lezen en te presenteren in een mooi dashboard. Ik heb 20 zonnepanelen op mijn dak welke per 10 aangesloten zijn op 2 Delta Solivia Omvormers (Inverters). Deze 2 omvormers hangen in de berging van mijn woning. Ik heb deze omvormers middels een standaard RJ-45 kabel op elkaar aangesloten, en vervolgens middels een standaard RJ-45 kabel waar ik één zijde van afgeknipt heb een middels een
FT232RL + 75176 FTDI USB naar RS485 seriële adapter aangesloten op de USB-aansluiting van een Linksys NSLU2 (De NSLU2 is een netwerkapparaat dat wordt gemaakt door Linksys.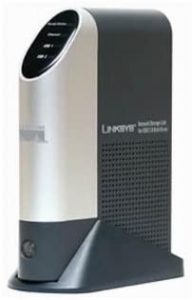 Het wordt gebruikt om USB-opslagapparaten zoals USB-sticks en harde schijven met USB-interface toegankelijk te maken over een netwerk.). Deze NSLU2 had ik al jaren werkeloos is de doos liggen, maar is een ideaal apparaat om deze toepassing mee te realiseren. Natuurlijk kun je ook prima een Raspberry PI of ander linux doosje gebruiken. Dus deze afgestoft en van een vers Debian 7 linux operating voorzien en Python opgezet. Vervolgens twee python scripts en een shell-script gemaakt die de twee omvormers uitlezen en de output van de omvormers in JSON-formaat naar de MQTT-broker doorzet. Node-red pakt vervolgens deze output op en zet deze in een MariaDB-tabel. Tot slot met Google Data studio een flashy Dashboard gemaakt.
Hieronder een overzicht van mijn twee Delta Solivia omvormers:
| | |
| --- | --- |
| Solivia 2.5 EU G3 | Solivia 3.0 TR EU G4 |
| | |
| | |
| Variant 15 (paragraaf 8.6) | Variant 105 (paragraaf 8.7) |
| Serienr. 220268151317000697 | Serienr. 220287161303000538 |
Benodigdheden:
3 RJ-45 kabels

FT232RL + 75176 FTDI USB naar RS485 seriële adapter

USB 2.0 kabel A mannelijk – B mannelijk
NSLU2 (of andere linux doos)
Minimaal 4Gb USB-stick
Vrije poort op je switch of router
Optioneel: 3D printer + Filament, 2x female-female spacers 10mmx5mm, 2 schroefjes
Reeds geïnstalleerd en up-and-running:
Node-red
MQTT
MariaDB (MySQL)
Google account
Pinout:
Solivia 3.0

Solivia 2.5

RJ-45 pin – draad
FT232RL
RJ-45 pin – draad
FT232RL
8 – Bruin
RX_B
7 – Bruin/wit
TX_A
7 – Bruin/wit
TX_A
6 – Groen
RX_B
4 – Blauw
Gnd
4 – Blauw
Gnd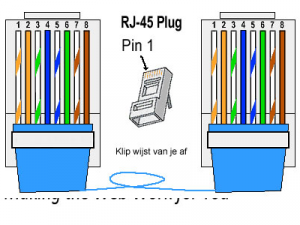 Verbindingskabel tussen de twee omvormers is een 
gewone standaard recht-toe-recht-aan RJ45 kabel, blijkbaar wordt intern in de omvormers de juiste verbinding gemaakt. Volgens onderstaand plaatje zou bij meer dan één inverter een 120R terminator geplaatst moeten worden. Echter toen ik deze terminator plaatste kreeg ik geen data binnen, en zonder doet hij het ook prima, dus geen terminator toegepast.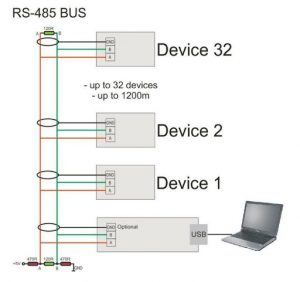 Connectietest: Voor een eerste test of er een connectie te maken valt met de omvormers heb ik de tool DeltaSolviaProtocolTest geïnstalleerd op mijn Windows laptop. Je kunt gewoon de zip uitpakken in een map en de executable opstarten. De tool detecteert zelf automatisch de COM-poort waarop de
FT232RL adapter aangesloten zit, je moet hem alleen nog even selecteren. Baudrate, Parity en stopbits instellen op 19200,n,8,1, Timeout kun je standaard houden. Het is handig om eerst één omvormer te testen, dus haal de verbindingskabel nog even los. Standaard staat namelijk het RS485 adres van de omvormer op de waarde 1 ingesteld, met de verbindingskabel aangesloten weet het tool niet welke omvormer reageert. Later stellen we de juiste RS485 adressen op de omvormers in.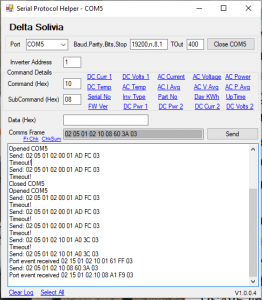 Klik vervolgens willekeurig één van de blauwe linkjes aan, bijv. DC Cur 1, en klik op Send. Als het goed is zie je een Send: bericht, en darna een Port event received: bericht. Het werkt ! Probeer dit uit op beide omvormers, eerst zonder verbindingskabel. Krijg je een timeout, check dan nog even goed je kabel en pinout ! Mijn timeouts werden veroorzaakt doordat het klipje van de RJ45 connector niet goed in de RJ45-aansluiting van de Delta Solivia 3.0 klikte en los zat.
Tools:
Windows: 
http://www.bettersoftware.com.au/DeltaSoliviaProtocolTest.zip
Linux: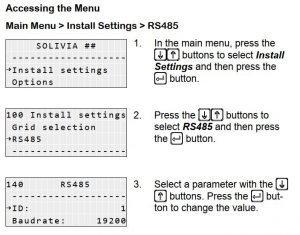 Casing voor de FT232RL: De FT232RL wordt zonder casing geleverd.
Op Thingsverse vond ik een casing voor de adapter. Deze geprint op m'n 3D printer. De bestanden vindt je hier:
| | |
| --- | --- |
| Setting | Waarde |
| Extruder temperature | 200o |
| Hotbed temperature | 50o |
| Layer height | 0,12 mm |
| Infill density | 20% cubic |
| Wall/Top thickness | 0,8 mm |
| Generate support | Uitgevinkt |
| Retraction | Aangevinkt |
| Printing Speed | 80mm/s |
| Cooling | 100% |
Hieronder de onderdelen, printtijd, kleur en verbruik van PLA
| | | | | |
| --- | --- | --- | --- | --- |
| Onderdeel | Kleur | Doorlooptijd in minuten | Gram | File |
| Cover | Grijs | 18 | 1 | Cover.stl |
| Case | Grijs | 163 | 14 | Case.stl |
De gaatjes in de casing heb ik iets groter gemaakt met een 5mm boortje en er twee nylon female-female spacers van 10mm bij 5mm in geperst. De FT232RL adapter vervolgens in de geleiders geplaatst en het dekseltje met 2 nylon schroefjes vastgezet. En het resultaat:
NSLU2: NSLU2 van "vers" operating systeem voorzien, nou ja vers, Debian 7 is de laatste versie waarin de NSLU2 ondersteund wordt. Aangezien dit systeem uitsluitend intern wordt gebruikt, en geen connecties van buitenaf nodig heeft, voor mij niet een ramp.
Python3 geïnstalleerd: